2020 has been the most unique year that I can remember, especially when it comes to our economy. Coming off 2019, the economy was strong, companies were reinvesting and spending money, and it looked like 2020 would be another great year — until March.
Enter COVID-19; companies that could endure the pandemic had to pivot fast. Predictions for a record year were gone in a moment. For months, businesses across the country were shut down.
As Melink (and many other businesses) are trying to come out on the other side of COVID-19, many feel more timid than ever before about spending cash, and understandably so. Numerous projects are on hold as capital expenditure budgets are frozen for 2020, 2021, and even 2022 in some cases.
Melink's company mission is to change the world one building at a time by helping decision-makers implement energy efficiency and renewable energy solutions into their commercial facilities. Intelli-Hood® is a Demand Control Kitchen Ventilation (DCKV) system that saves money by reducing monthly operating expenses in commercial kitchen facilities. Often, Intelli-Hood can pay for itself in one to three years, making it a very attractive energy conservation application.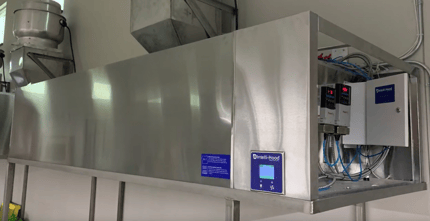 The question arises: How do we continue to change the world one building at a time when spending has been put on an indefinite pause?
I was recently working with a university that wanted to implement Intelli-Hood in a kitchen. Without any utility rebates taken into consideration, the $62,000 project was going to pay for itself in less than three years. Everything was moving right along until COVID-19 put everything on pause. But Melink is committed to working with its customers and customizing energy solutions, so discussions were continued with the university. We were able to come up with a creative financing solution that is a win/win for all parties: an Equipment Loan Program. This allows the customer to pay nothing out of pocket, while simultaneously being cashflow-positive the second we walk off the job site. Working with a lender, we can get the $62,000 financed for the university over five full years at monthly installments of $1,287 for a total investment of $77,220.
At Melink, our proposals come turnkey, along with a custom Energy Savings Report. These reports give you an idea of how much money you will save with Intelli-Hood. In this instance, the customer was going to save more than $18,000 in energy savings the first year alone, resulting in a positive cashflow of almost $3,000. On average, utility rates go up 3% every year, meaning that with the customer locked into an installment payment of $1,287 for 60 months, the positive cashflow will continue to increase year over year. After five years, the loan will be paid off in full and the benefits really kick in, saving more than $20,000 per year.
Looking at a 10-year period, the customer is going to save more than $130,000 without having to pay anything upfront. While a traditional purchase would save more money ($148,000) over the same 10-year period, it would require the full upfront cost paid in full.

So, if your business is in a similar position where your budget is paused but you are still interested in saving energy, reducing greenhouse gasses, and cutting operating costs – maybe this creative financing can work for you, too. We can continue to work together to change the world one building at a time, all while exploring realistic options in the current economic climate.