Sales Engineer. These are two words that most of us have very clear ideas of what they individually mean. But what about when they are put together? Well, I was not exactly sure what to expect either, but it sounded like a challenge, and I like those.
I am new to the Demand Control Kitchen Ventilation (DCKV) industry but well-versed in technology and mechanics due to my background. So, when I took on the role of a Melink Intelli-Hood Sales Engineer, I felt well prepared.
Then, enter COVID-19.
Onboarding plan? Derailed. Customer visits? Cancelled. Installations with field service techs? Not attending. How was I supposed to embrace my role and be a valuable addition to the team?
What Next?
That is where my Melink family stepped in. To continue on with business "as normal," we, like most other companies, took full advantage of virtual meetings, trainings, lunch-and-learns, and other digital tools that were not thought about or utilized even just 10 years ago! As the pandemic began to unfold and our work continued on thanks to these digital tools, I immediately saw the value in my new role and especially Melink's value to its customers.
For instance, indoor air quality became a topic of daily conversation. Essential facilities like grocery stores and hospitals were now on the front lines, and I was helping to get Intelli-Hood® kitchen ventilation controls into these areas to ensure first responders had healthy air.
You see, Intelli-Hood learns how to best optimize your kitchen ventilation by using temperature probes partnered with infrared optical sensors. The optics pick up on the presence of airborne contaminants in the form of smoke and then drive the exhaust fan's variable frequency drive (VFD) to the appropriate speed to ensure adequate evacuation of the effluent. Smoke being present does not have to mean that heat is, which is one more way that a Melink Intelli-Hood control system ensures continuous capture of all effluent. As if that was not beneficial enough, the system is also ensuring that more of the pre-conditioned air is staying in the occupied spaces instead of being wastefully exhausted from the kitchen due to continuous discharge ventilation.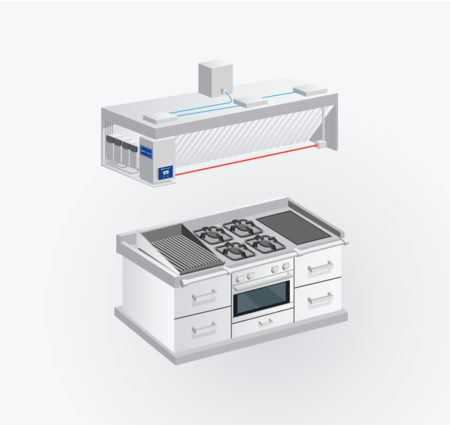 Looking to the Future: Customized Solutions
Pre-COVID-19 and now, I spend each day as a Sales Engineer building customized quotes for our customers' unique needs. As requests for new construction sites roll in, I work with my Business Development Manager to go through the plans for each site, reviewing the kitchen designs and ventilation requirements, as well as requirements that have been called out by general contractors and food service consultants. Every job requires different exhaust hood types; fan types and horsepower; and temperature monitoring preferences, as well as the possibility of tying the system into a building's BACnet. All of these items and more are taken into consideration when preparing an accurate, customized quote for our customers.
Thus, these last few months of working in Virtual Corporate America have helped me realize just how adaptable our team at Melink — and our Intelli-Hood controls — really are. COVID-19 or not, these control systems are improving the health and wellness of employees and customers in thousands of locations worldwide, all while being the most energy efficient DCKV system on the market. And the umbrella of Melink solutions extends to other areas, too. When you pair an Intelli-Hood control system with solar panels, a PositiV® unit to monitor building health, and a high-quality Test and Balance plan, you really cannot ask for a more efficient and energy-saving space.
I may only be finishing my first quarter here at Melink as a Sales Engineer, but already I have felt the satisfaction of knowing that what I am doing is making a difference. We really are making the world a better, greener place, one building at a time.