Janice Scheid, Melink Corporation's Controller, made the switch to reusable drinking straws, and she's not looking back.
"If I can give up normal straws, anyone can," said Scheid, who calls herself "The Straw Queen" — that's how much she loves them!
So why did she make the switch? Scheid credits her son and the organization 4ocean with opening her eyes to her straw consumption. She estimates she was using two straws per day on average.
"When you think about two straws per day for 365 days a year, that adds up. They were heading to a landfill or potentially into the environment," said Scheid.
In fact, Scheid's disposable straw consumption is on par with the U.S. average. It's estimated the average American uses 1.6 straws per day. This equates to each person in the U.S. using about 38,000 straws between the ages of 5 and 65. (Check out this article from the National Park Service for more stats.)
Thus, she decided to change her habit, a promise she has committed to for more than a year. She purchased a straw cleaning brush and multiple types of reusable straws — stainless steel and hard
plastic — to suit her drink preferences. She also purchased bent metal straws and Tervis-sized plastic straws to fit specific cups.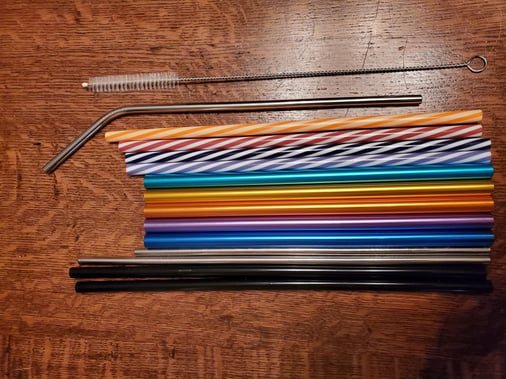 Reusable Straw Tips
Feeling inspired? Here are sip-worthy tips from Melink's Straw Queen:
Keep a straw close
You made the investment, so make sure your straws are available at all times! Besides having her reusable straws at home, Scheid keeps straws in her car, at her desk, and in her purse.
Speak up to skip the disposable straw
When going out to eat, Scheid asks for no straw when she places her order.
Educate your family and friends
Just like her son inspired her to consider her straw consumption, she tries to make others aware. She has gifted her friends and family with sets of reusable straws, saying her mom and sisters are hooked now. "Little changes add up," said Scheid.
Shop around
Scheid purchased her first reusable straws through Amazon, but she said they are easier to find as they become more common. She has even found them in unlikely places, such as JOANN Fabric and Craft Stores.
Consider your other habits
Scheid also has made changes in other areas. She avoids buying drinks sold in plastic beverage rings (i.e. 6-pack of bottled soda) because of the rings' impact on the environment and wildlife. And to avoid single-use plastic grocery bags, she purchased heavy-duty, reusable canvas shopping bags. Additionally, she has swapped out one-time-use plastic sandwich bags (i.e. like Ziploc brand) for reusable options.
Melink envisions clean energy transforming the world by improving our global economy, security
and environment — for ourselves, our children and future generations. "Walking the Talk" stories showcase Melink employee-owners that are making sustainable choices in their personal lives.