As businesses attempt to set themselves apart in a world of emerging technologies, those invested in renewable energy continue to outshine competition. Solar power in particular has not only proven to be a profitable investment — it can also serve as a marketing tool to entice customers and employees. Consider a solar canopy covering your business' parking lot.
Although commercial solar canopies are generally more expensive than a typical ground or roof mount, they provide a priceless component: customer and talent attraction. If you are considering solar for the added public relations (PR) and marketing benefits, a parking canopy can be well worth the additional cost.
From a PR standpoint, a solar canopy can say a lot about your company:
You care about a clean energy future
You are invested in customers and employees
You are on the leading edge of technology
You are committed to sustainability and the livability of our planet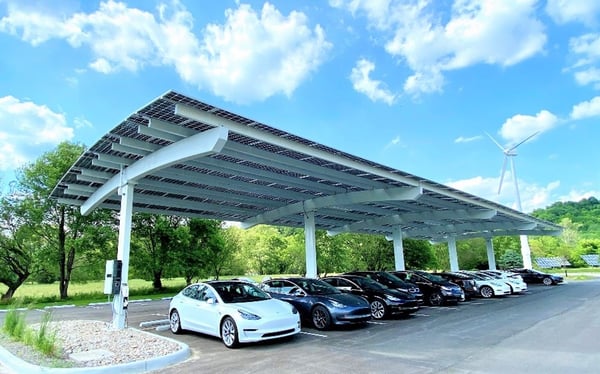 An 85 kW solar canopy at Melink Solar & Geo in Cincinnati, Ohio, powers HQ2, Melink's Zero-Energy Building.
The canopy features 40 electric vehicle charging stations to power employees' cars.
How else are solar canopies providing a competitive edge? It goes without saying that putting solar over a lot is an efficient use of space, as the area is often underutilized. Parking lots should be viewed as valuable real estate, ripe for reinvestment. Roof or ground mount installations may not be feasible due to obstructions or limited space. Unlike a lot of roof mounts, canopies are instantly visible to the public. With electric vehicles (EV) on the rise, it is becoming increasingly popular for businesses to install EV charging stations on their property. An area that oftentimes goes unused can be transformed into an aesthetic electric generator that powers both cars and your facility.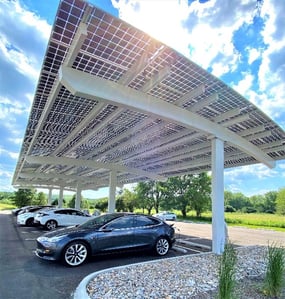 Outside of the visible advertisement, a
perso
nal perk for owning a solar canopy is protection against
rising electricity rates
. Businesses benefit from low
er bills with the energy generated by their systems. Ironically, these parking canopies help protect both your
electric bill AND vehicles from inevitable costs. The added shade prevents cars from overheating, oftentimes leading to reduced air conditioning and fuel consumption [1], and the covering acts as a shield against potential weather impairments.
In 2021, JPMorgan Chase in Columbus, Ohio, is expected to complete a 12-megawatt solar canopy, which is estimated to power 60% of its building's annual energy consumption. This will make it the second largest commercial office solar installation in the world [2]. The project will help utilize otherwise unused space that will provide covered parking for employees and customers. The bank's investment in sustainability initiatives is in line with its commitment to use 100% renewable energy to run its operations by 2020.
Likewise, for the Cincinnati Zoo & Botanical Garden, sustainability also played a large part in its decision to install the largest publicly accessible urban solar parking canopy in the country. The 1.56-megawatt solar array generates 20% of the zoo's power and helped the facility earn the designation of "Greenest Zoo in America." On sunny days when the system produces more energy than consumed, excess power is sent back to the grid, and visitors enjoy parking underneath the shaded structure. An educational kiosk at the entrance allows visitors to learn about the canopy's production and other benefits provided by solar energy [3].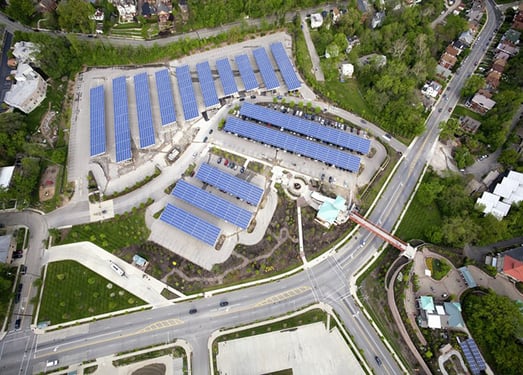 Melink Solar & Geo developed the Cincinnati Zoo & Botanical Garden's solar canopy,
which consists of nearly 6,400 solar PV modules.
Covered parking for customers and employees, electric bill savings, visible advertisement for your firm, increased property value, and carbon footprint reduction — you can see why businesses are budgeting for this type of long-term investment that reaps opportunity. If you are looking for a solar array system that speaks volumes from the moment one sees it, consider installing a parking canopy.
If you are interested in a parking canopy to power your building, please contact Melink Solar online or call (513) 965-7300.
Sources: