Before COVID-19, indoor air quality (IAQ) was somewhat of an afterthought. However, in the last year, indoor air quality is a buzzword that has gained much needed traction.
According to the Centers of Disease Control (CDC), there are many ways to achieve better Ventilation in Buildings, especially in response to the COVID-19 pandemic. Some of those recommendations are:
Increase Outside Air
Rebalance or Adjust HVAC Systems
Improve Central Air Filter
Exhaust Fans Working
Consider HEPA filters
Longer HVAC Run Times


Early in the pandemic there was guidance that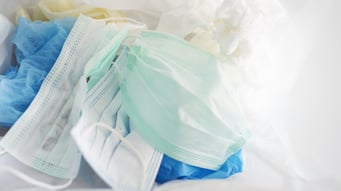 an easy way to improve IAQ was to change your air filters to a MERV-13. Herein lies the "Catch 22".
While some left their filters as is and ended up with less filtration but more outside air, some changed their filters to a MERV-13, and just reduced the amount of outside air. Without proper guidance, facility managers were asked to make decisions that impacted the health of their residents and staff without the proper knowledge to support their decision.
What Choice Would You Have Made?
Let's rewind to May 2020 and imagine for a minute that you are a Director of Facilities at a Senior Living Community. Corporate is hearing the CDC recommendations and the hot action item at the time was to put in a MERV-13 filter. You go into your browser and type "MERV-13 Filter + COVID" and you get results from ASHRAE, CDC and the World Health Organization saying that MERV-13 protects against viruses like COVID-19. You decide to follow the expert's guidance and change out the MERV-13 filter.
Great! Now you have better filtration, so you have less virus particles coming through, right? Not so fast! This may be true however now you have reduced the frequency of air changes. By changing the filter from a MERV-10 to a MERV-13, you are now choking the system down and bringing in less overall outside fresh air coming into the building! This drop in building pressure is due to an increase in static pressure. Your building is likely in a negative pressure situation which could lead to those issues I mentioned earlier - humidity problems (mold/organic growth), increased energy use and poor indoor air quality.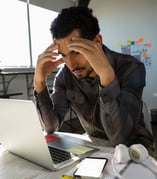 So, even though you were doing exactly what the experts recommended and corporate was asking you to do, you have actually done your building a disservice and likely have created an unhealthier environment in your building.
Now you're thinking, "I can't win. What now?"
Allow me to illustrate your next best step. Follow along as we support a customer using PositiV.
What PositiV Can Do
PositiV is an HVAC health monitor that measures temperature, relative humidity, building pressure and carbon dioxide – four of the largest components of a healthy building.
In the example below, you will see the facility was in a positive position on April 15th. By April 16th, the facility changed their filters from a MERV-10 to a MERV-13 – just as you thought you should. Pretty quickly the facility fell into a negative building pressure situation which led to a reduction in IAQ. Because they had the PositiV HVAC health monitor, they, they received a report showing how their IAQ shifted drastically the same day it happened, allowing them to quickly make a judgement call and adjust their HVAC system.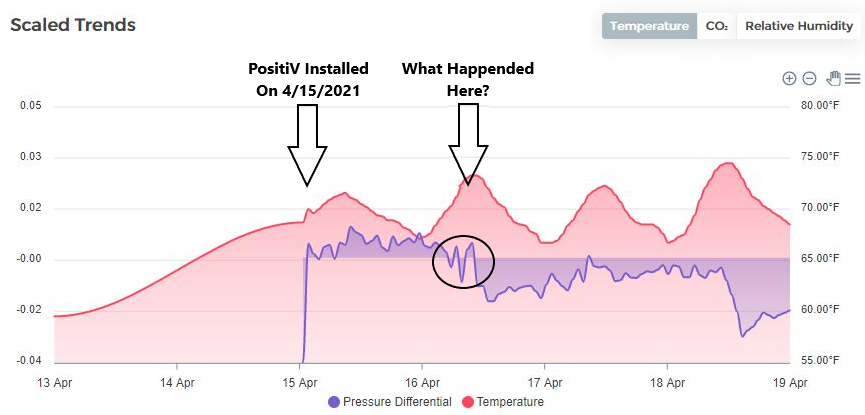 Without an HVAC health monitor, this facility may not have realized they had an issue until they started seeing physical signs like mold growth. Our technicians were able to quickly get back on site and determine if we could increase the fan speed to overcome the increase in static pressure from the MERV-13 filter and get the facility back into a slightly positive condition.
Other things that could happen, and go unnoticed, that would lead to a negative pressure state and reduced indoor air quality could be HVAC schedule change, HVAC system failure, or it could be something else that is site specific.
Don't waste time second guessing. Let PositiV see what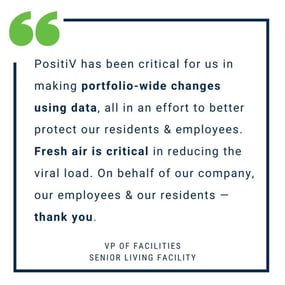 humans can't, your indoor air quality. If you have already made changes to your HVAC equipment, it isn't too late now to make corrective actions. PositiV can help you diagnose what may be wrong, and a certified Melink Test and Balance Technician can correct the problem for you.
Melink has longstanding and trusted national partnerships with some of the largest customers in the world. If you would like to learn more and speak to professional about how to better your building health contact us now and we will be happy to assist.