There is much hype these days in the facilities management industry about the importance of preventative maintenance, especially for critically important HVAC systems. In our experience, we are often urgently called out to a facility because the site's HVAC hasn't been well maintained. While we're happy to help, we also want to share insights so you don't have preventable crises.
In the article "Realizing ROI on Planned Maintenance," author Michael Sherer quotes David Pogach, LEED GA, Longhorn Steakhouse Facilities Manager, as saying:
"We look at planned maintenance as a way of making sure equipment lasts its expected life cycle. … We know these programs work. They save money, so for us it's not a debate of whether to spend the money now or later. We maintain our equipment. Planned maintenance makes the most sense for equipment that in-house staff doesn't have the expertise or time to maintain. Most operators who have programs in place start with HVAC because putting people on the roof is a liability issue, and most food service employees don't have the expertise to service HVAC systems."
Tips for Staring an HVAC Preventive Maintenance Program
The following tips are ways you can use your air balance report to help start a new preventative maintenance program or audit the effectiveness of an existing one:
1. In your report, you'll have a list of deficiencies and recommendations for optimal operation. First and foremost, you should schedule completion of these tasks as part of your quarterly or semi-annual preventative maintenance program.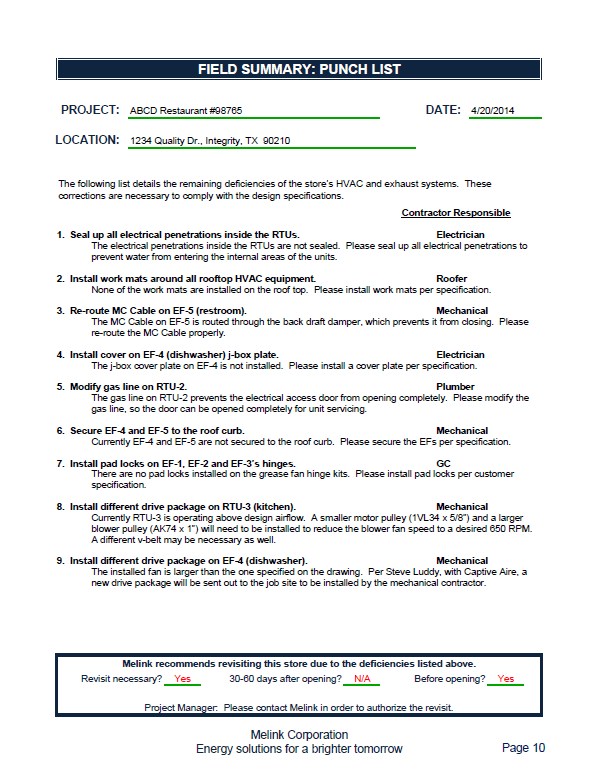 2. Another great use of a test and balance report is using the unit inspection checklists to see what should be monitored by your HVAC contractor.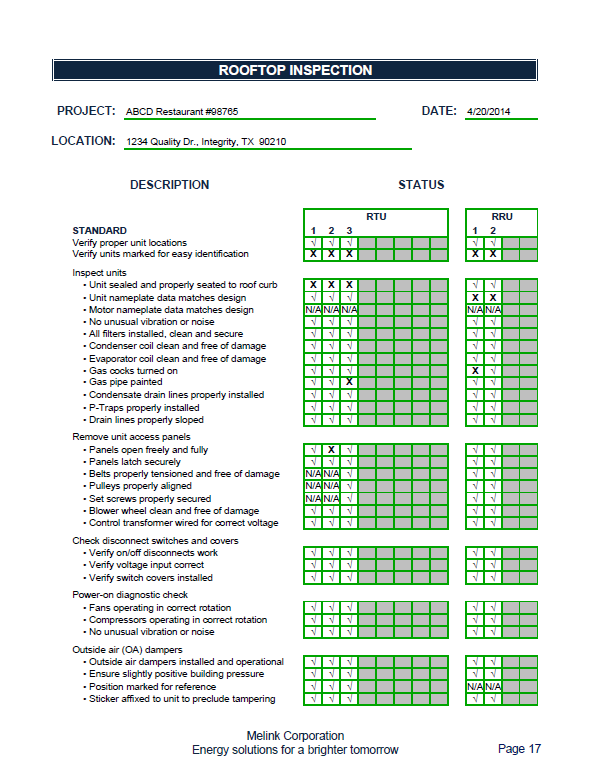 3. A third way to make the most of your air balance report is to use the HVAC system layout drawings to locate and inventory all equipment that needs to be maintained. Please note that not all test and balance contractors provide this. Information that could be included might be manufacturer names, model numbers, serial numbers, pulley sizes, belts sizes, motor horsepower ratings, and other useful data that would aid in the implementation or upkeep of any preventative maintenance program.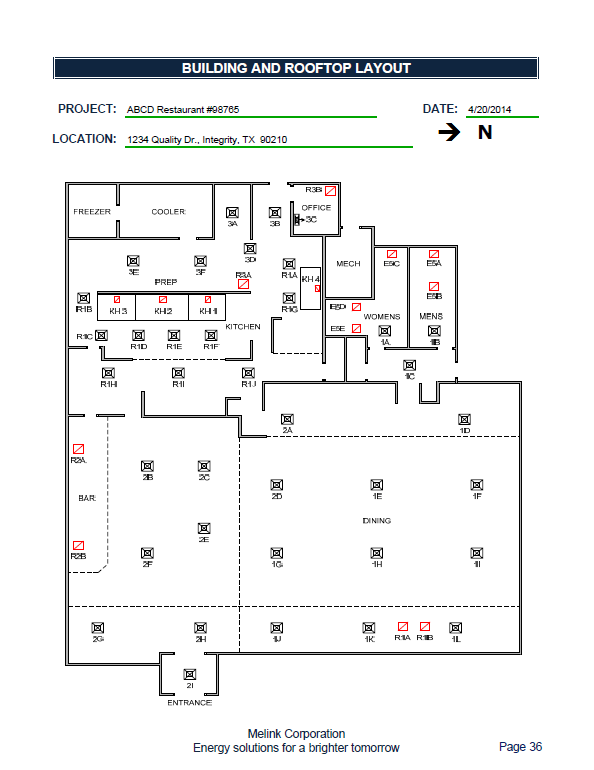 4. Finally, make sure your preventative maintenance programs include all of the items below. Omitting regular service on these is a leading causes of problem stores.
Change belts when damaged and verify proper belt tension
Replace filters quarterly
Clean outside air filters
Clean kitchen hood filters
Clean fan blower wheels
Clean grease traps
Clean evaporator and condenser coils
Verify thermostat settings are correct and someone onsite is trained how to adjust programming
Questions? Melink T&B is here to help. Contact us at tbestimating@melinkcorp.com, call (513) 965-7300, or complete the form at the bottom of this page.
Additional Reading
Realizing ROI On Planned Maintenance, Foodservice Equipment Reports Magazine, Michael Sherer, Aug 3, 2015
How To Read A T&B Report, Fresh Air Blog, Derick Ramos, Aug 27, 2015
Planned HVAC Maintenance Adds Up to Big Savings for Retailers, Energy Manager Today, Karen Henry, May 11, 2015
Contributed by Derick Ramos