Let's have some real talk. Remember that dreaded question when you were a high school teenager: "What do you want to do when you grow up?" *Shudder* Maybe you had an answer prepared that delighted the person who asked which "lucky you", swiftly ended the conversation. Or maybe you were like me and you stood there awkwardly for a few seconds while staring at your feet and mumbling something along the lines of "Uhhhh, I don't know. Something that I like doing that helps make the world a better place… I guess." Then you pretended like you heard your mom calling and scurried away hoping you hadn't brought too much shame to yourself in what surely wasn't your finest moment. No? Just me? Good! I wasn't the only one.
The funny thing is that no matter how much I have outgrown that little girl, I haven't been able to outgrow that question. As someone who just finished their third year of college, I get asked what I want to do with my life now even more than I did at my high school graduation party. Parents, grandparents, aunts, uncles, peers, professors, the random lady at the grocery store, everybody seems to know that apparently, I am of rightful age to decide my whole life, and everyone needs to know the answer right now. And for a while, I really did try to avoid the question, not because I have some ginormous fear of talking to people, but because I simply didn't have an answer.
College Decisions
I chose to major in mechanical engineering at the University of Dayton and in the fall
of 2018, I was a bright-eyed freshman ready to make these the "best four years of my life". I joined various clubs, became a Resident Assistant, played intramurals, was a tutor, stayed on top of my studies, and met some extraordinary people along the way. So, a unique but very typical college experience for someone who likes to be involved.
When it came time for the career fair, I did the usual: talked with friends and family, looked at different career paths, stalked a bunch of companies until I knew everything about them…all very normal things in this day and age.
My Start At Melink
Melink was a company that appeared on my radar very early on. After a handful of interviews and getting to know different members of the team, the more I learned, the more excited about them I became. By October of 2019, I had lined up a double term co-op position for the upcoming summer and fall semesters. But as my start date approached, the world changed drastically due to the coronavirus pandemic.
It was during my spring courses when we got an "early start" to our spring break in March of 2020. At the time, we were told that we would be remote until Easter and then return to normal for the remaining few weeks. However, as you know, that was not the case, not for the University of Dayton and not for the rest of the world. I had no idea what that would mean for my job at Melink.
The country's status seemed to change and worsen with each passing day. Study abroad trips were cancelled, summer classes were called off or altered to be all remote, and I had peers whose internships and co-ops told them that now wasn't the time and let them go. So, at the start of May, it was time to discuss what my future looked like at Melink.
I was one of the lucky ones. I would be working on a bi-weekly schedule partially remote and partially from home. This provided me the opportunity to learn a little unorthodox during my onboarding experience by making almost all of my meetings with others remote through Microsoft Teams rather than in person. It wasn't going to be easy by any means. In fact, I literally had no idea what to expect from a new job where I could be months before I even saw anyone face to face. And while I may have missed out on going on lunches with the team and being in conference rooms packed with way too many people, instead, I was learning what it meant to be flexible and learn differently. And I had people around who were willing to help get me through it.
I was tremendously grateful for the compassion of my co-workers. I was able to message any of them throughout the day if I had any questions, or even call for a quick chat if I needed to be walked through something or just say hi. It wasn't a normal office experience, but it wasn't what I was learning that was important. It made me realize that outside the technical skills a company can teach you, your surroundings are equally as important.
Becoming Team Melink
I've taken part in different research projects and case studies and adapted to the sales side of my role by putting together proposals for new customers. And most importantly, I've been able to get to know my team through these different pieces of work.
As with many businesses during this time, Melink faced challenges and changes too. The focus wasn't solely on how to make businesses more energy efficient, it also became about digging our heels in and being gritty when we had to be. What came as the most shocking to me was that even as a co-op, I was a part of meetings where we discussed our company's future. I could express a concern, or even pitch possible solutions to issues that I saw. There was absolute transparency throughout the entire company, and you knew that your voice would always have value. That is something I have come to appreciate.
Slowly Opening Back Up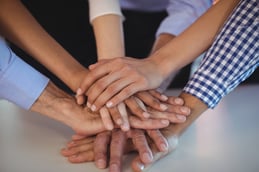 Eventually as businesses and restaurants began reopening, everyone worked extremely hard to begin reacting to that change. New faces began to join the Melink family and new positions were filled with people who fit right in and have given it their all since day one.
Melink adapted to fit the needs of new clients and everyone was still able to function as one unit. Open discussions where everyone's opinions matter continued, teams are still collaborating, we're adapting and pivoting as hiccups arise, and above all else, we care for one another and the future of our world.
My Ah-Ha Moment
Melink is a company that aims at changing the world by helping with renewable and energy efficient solutions for commercial buildings. But this isn't just words thrown together. The people who work here truly care about the future of our planet and live out their mission in their daily lives. Pulling into the parking lot with remote charging stations and hybrid/electric vehicles present, having various composting and recycling bins in several rooms, not to mention the beautifully designed second headquarters building being completely net zero, you can quickly see how important taking action is. Caring about the environment, wanting to reduce our carbon footprint, and living sustainably is at the core of each person at Melink. Tie this to the all the experiences I've had with members of the Melink Family and the business lessons I've learned; I think I've figured it out.
What I Want To Do When I Grow Up
I guess technically I'm still growing up, but that's not the point. The point is, that life is going to hand you all sorts of craziness. Sometimes it's little things like a pop-up rain shower when the weather predicted clear and sunny skies, and other times it's a global pandemic and shutdowns when you're supposed to start your first "adult" career move. A little over a year ago, I don't think anyone would have been able to predict all that was instore for 2020 and 2021. But one thing that I am grateful for is that I was able to find a family at Melink. My co-op was, and still is, an outstanding experience that opened the door for me when I thought it would surely close.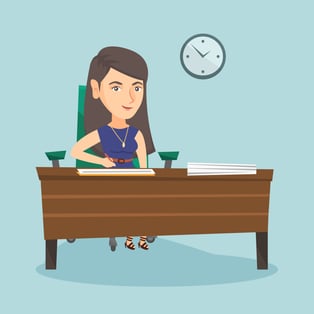 My job at Melink allows me to not only love what I do, but also know that the work that I am doing has an impact on something bigger than myself. And isn't that all you could ever want out of a company?
So, what do I want to do when I grow up? My answer is still the same, but I don't stare at my feet and mumble anymore. Instead, I smile. I smile because I am doing something now that I love doing, with people that I really like and we're helping make the world a better place… one building at a time.
Think Melink could be the right fit for you?
Check out our careers page and apply today!