Melink has a strong history of hiring veterans. In the last few years we have really targeted that effort by leveraging military recruiting agencies. At Melink, we have veterans at nearly every level of our business.
Our original goal was to find the right type of candidate to fill the challenging role of Field Service Technician. The role takes people away from their families for extended amounts of time, requires people to work independently, and to adhere to a specific code of conduct, with integrity being paramount. Veterans seemed to be a natural fit and were drawn to the role. We have found that our military veterans are loyal, hardworking and most of all value their integrity.
Currently, there are 17 military veterans in the Melink family, with one still being active in the Florida Air National Guard. Of those 17 veterans, six of them are in leadership roles, and the other 11 are members of Melink's national network of technicians. That makes 28% of our field workforce veterans, and almost 20% of all of Melink employees.
Hiring veterans is rewarding on several different levels. My team of leaders understand the capabilities of these individuals, and we are able to translate their military experience into the civilian job market. Of the team that manages the national network, five of us are veterans from varying services and disciplines. We all understand the military and veterans in different ways, and it gives us a unique advantage when hiring veteran talent. We all relish the chance to provide opportunities to those have also sacrificed and taken up the call to serve our nation.
We are proud of our veterans and excited to introduce you to a few of our longest serving Melink veterans: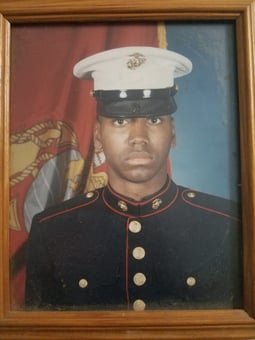 Larry Moore
Completing boot camp was quite the accomplishment for me, and I also made Sergeant (E5) in just over three years (almost unheard of in the Marines). With all that said, my time in Iraq back in 2003 was what I came away most proud of. There's a different level of pride when you consider serving your country for an extended time frame in a war zone, and I had the honor of spending a full year in theater. I would argue that the level of camaraderie here at Melink rivals what we veterans experienced in the service. This is very rare in a corporate environment as a civilian. Here at Melink, the mission is clear, and our goal is to change the world. So, in a sense, Melink has indirectly supported my involvement in the military by providing an environment that rivals the togetherness and mission-oriented mindset I encountered during my time in uniform. I've been fortunate enough to find myself in leadership roles throughout my tenure with Melink. First as a Lead Technician in the field, and now as a Field Service Manager. This has allowed me to continue to utilize the leadership traits drilled into me during my time in the Corp. Melink has presented me with new challenges over the years, which has forced me to continually grow.

Ralph Conti
After working for a company of close to 100,000 employees and feeling like just a number, it was refreshing to work for a smaller company where you can feel you are valued every day. A company where the president/owner shows an interest in your family and encourages you to chase your goals. I appreciate working for a company that values my military background and supports my active involvement in the Air Force, which allows me to fulfill my commitment and achieve my goal of a military retirement.


Mark Goodhind
Prior to my tenure at Melink, I served in the United States Army. After back-to-back deployments and having a young family, my wife and I decided that it was time to move onto the next chapter in our lives. Since I have been at Melink, it has become commonplace to see many veterans walk through our doors. Getting an opportunity to work with so many people from across the country both in and out of uniform has given me and my family a unique outlook. It is truly humbling to see the support given to our veterans. Thank you for your Service.