If it's January, then it's "Recruiting Season" for Melink T&B Field Service Technicians.
Each year, our goal is to source, engage, and win the best technicians to join our national network of HVAC technicians.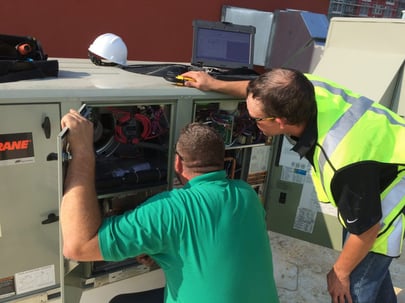 Becoming a Melink Technician
So, what characteristics does it take to become a Melink T&B Field Service Technician? That answer lies in our Melink Core Competencies:
Extreme Ownership – A Melink HVAC Technician takes personal responsibility for outcomes and perseveres to face resistance or setbacks. A Melink Technician pursues everything with energy and drive.
Subject Matter Expertise – A Melink HVAC Technician is the on-site expert. Every technician excels at his/her professional function, regularly demonstrating and sharing depth of knowledge and skills. Being a quick study is key in success.
Clear & Candid Communication - A Melink HVAC Technician ensures that information is passed on to others who should be kept informed and has the courage to say what needs to be said.
Building Collaborative Relationships - A Melink HVAC Technician develops trusting, respectful, and professional relationships with colleagues and customers over time.
Planning & Problem-Solving - A Melink HVAC Technician takes the steps necessary to deliver high-quality results on time and on budget.
Continuous Improvement - A Melink HVAC Technician constantly seeks ways to improve the internal and external customer experience by delivering better, faster, or less expensive products and services.
When looking to take the next steps in your career, make sure to take the time to truly understand the meaning behind of each of Melink's Core Competencies. Going through these will not only help you in your job search but help you to be an overall better employee, no matter your future career path.
Are You the Next Melink HVAC Technician?
At Melink, our goal is to provide the best "White Glove" service for our customers. We want you if you:
Can travel 100%
Have electrical and controls experience
Received HVAC training and education
Have a strong work ethic
Possess a high level of self-accountability
Have strong organizational skills
Have high emotional intelligence, a positive
attitude, and a service-leadership philosophy
Does it sound like you would be a great fit for our team? Click here to learn more from Melink's Human Resources Team.