Why should I care about building pressure?
Building pressure can often be one of the first things a customer experiences as they enter a building. In an ideal building, it could be the warm breeze of air that greets the customer as they enter the front door on a cold, wintry day, or it could be the delicious smells of a restaurant that pull the customer in to have a taste, even if they are not hungry. Conversely, at a building with improper pressure, the same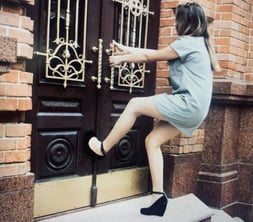 customer can be greeted by doors that are nearly impossible to open, visible moisture accumulating on the windows, or even an intense blast of air as they open a door or window.
These types of experiences are directly attributed to building pressure. And as we know, a good first impression is extremely important when it comes to customer experience. Building pressure not only affects your customer's experience at the front door, it can also drastically influence HVAC operation and indoor air conditions of a building space.
What exactly is building pressure?
Building pressure is the difference between outside air supplied to the building and air removed from the inside of a building from the HVAC system. Usually, a slight positive building pressure, where supplied air is greater than exhausted air, is desirable. A slight positive building pressure minimizes the infiltration of outside air into a building envelope and ensures that air entering the building has been properly conditioned. When supplied air is less than exhausted air, a negative pressure condition occurs, and unconditioned outside air is pulled into the building through any cracks or openings in the building envelope.
As a building operates in a negative pressure condition for an extended period, problems arise, and costs associated to building pressure grow. The HVAC equipment becomes less efficient as it overworks itself to condition air that is infiltrating the building which can inflate HVAC bills by up to 20%. For example, a 5,000 square foot quick serve restaurant in Texas ($0.1629 per Kilowatt-hour) that operates in a negative pressure condition would have an inflated energy bill to the tune of $3,080 per year! There are also many other unseen costs that can be attributed to negative building pressure, like lowered employee productivity due to indoor CO2 buildup or increased mold risk from humid outside air infiltration, all of which have a cost associated to them. These are just a few common problems associated to negative building pressure; for more information, see Melink's blog post Top 5 Negative Building Pressure Problems.
What do I do about building pressure?
Educate: Understand the warning signs of negative building pressure. The graphic below provides a high-level outline of issues associated to building pressure. Unsure of where to start? Melink has experienced and certified HVAC professionals ready to share their expertise.

Monitor: We monitor our health with a watch on our wrist, but what about our buildings? Use indoor air quality, building health, and differential pressure monitoring devices to get a baseline of your building and better understand building health. Learn more about 24/7 tracking with Melink PositiV

.

Test, Adjust, & Balance: If you detect building pressure problems, it is likely time to get a test and balance (TAB) of your HVAC system completed by a certified test and balance agency. Contact Melink TAB for further information on certified, independent, and national testing, adjusting, and balancing services.
For more ways Melink can begin working for you, contact us today!