Let's face it: 2020 has been a challenging year. The spread of the novel coronavirus across the world has created many challenges both personally and professionally for everyone, including Melink's remote team of technicians. Our technicians live on the road, traveling across the country regularly to jobsites to install our HVAC Test & Balance, Intelli-Hood, and PositiV energy solutions — not an easy job with new safety mandates and travel restrictions.
Continuing Field Work During a Pandemic
When the pandemic first hit, we reacted as quickly as possible to provide guidance and supply personal protective equipment (PPE) to the technician team. We always felt like we were on top of the new guidelines and putting the best safety measures into place, but — as with anything new — there was an adjustment period and we've had to learn as we go. Every jobsite has been slightly different, regulations vary by location, and it has taken some time for the techs (and our customers) to adjust to this new way of doing business.
Our team members have endured flight delays, flight cancelations, reduced flight schedules, state border restrictions, mandatory quarantines, testing requirements, reduction in site capacity, mask requirements, increased sanitation, reduction in total workload, and — most importantly — impacts on their families.
One of our most interesting challenges came from a customer in the state of Washington. Prior to beginning work, the customer required our technicians to quarantine in the state for 14 days or receive a negative COVID-19 test result in the state of Washington. It was a unique request, and we had two technicians spend several days in quarantine awaiting test results before they could begin work. But, as always, our team rose to the challenge!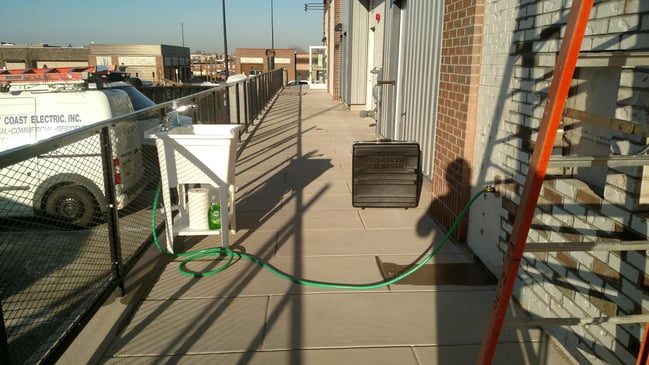 A handwashing station set up by the general contractor at a jobsite.
Photo Credit: Melink technician Darryl Stones
The "New" Normal
Our field work has steadily increased as restrictions eased and everyone, our technicians included, got used to doing business during a pandemic. Like most of the world, we have learned as we go and have implemented improved safety measures as needed.
Additionally, we have taken other steps to help keep our team and customers safe:
Scheduling — Melink's scheduling team worked very hard in the first several months of the pandemic to identify COVID-19 hotspots across the country, and we declined to send our technicians into those areas.
Feedback — We listened closely to our technicians and did our absolute best to accommodate their needs and wishes. We still have a few technicians with certain travel restrictions, such as no flights. But our team has risen to the challenge and persevered despite everything that has been thrown its way.
As the world continues to adapt to the pandemic, Melink is prepared to continue business in the "new normal." Our first priority is safety of our employees and our customers. We will continue to abide by local mandates, customers' company policies, and CDC guidelines. Rest assured — we are doing everything we can to keep people safe while helping your business meet its goals.
Questions for me or our team of technicians? Drop a comment below or call (513) 965-7300. And click here for the latest company-wide updates concerning COVID-19.